Jack Coughlin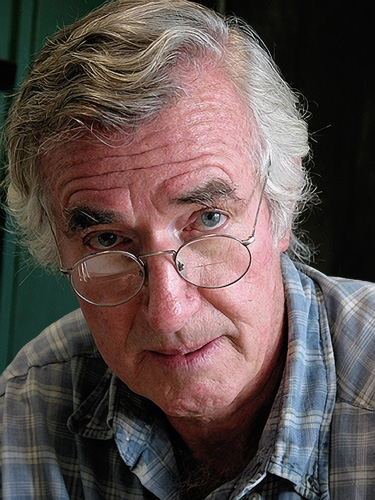 Photo by Ken Buck

Jack Coughlin is well known for his strong portraits of literary figures and musicians. His prints, drawings and watercolors have been exhibited widely across the United States and Europe. They are in the permanent collections of the Metropolitan Museum and the Museum of Modern Art in New York, the National Collection of Fine Arts in Washington D.C., the Norfolk Museum of Arts and Sciences in Virginia, the Worcester Art Museum in Massachusetts, the University of Colorado, the Philadelphia Free Public Library, Staedelsches Kunstinstitut, Frankfort, Germany, the New University of Ulster, Coleraine, Northern Ireland and in several other important museum, university and library collections worldwide.

A member of the National Academy of Design, he has received numerous awards and prizes and his portraits are regularly commissioned for the New Republic. His portraits have also been published in several volumes of poetry in Ireland and the United States.
Coughlin has had a life long love for the harmonica and blues music. The portraits included in A Brush With the Blues were done to pay homage to some of the great blues musicians he has admired.

He has exhibited his work at the National Academy of Design, the National Institute of Arts and Letters and the Fine Arts Gallery of San Diego. He has had solo shows at the Ainsworth Gallery in Boston, the Silvermine Guild in New Canaan, Connecticut, the David Hendriks Gallery in Dublin, Ireland and the Galleria Villa Schifanio in /Florence, Italy.

In addition to his work as an artist and a sculptor, Jack Coughlin is Professor Emeritus of Art at the University of Massachusetts Amherst.

Born February 19, 1932 in Greenwich, Connecticut he went on to study at the Rhode Island School of Design and the Art Students League, New York. His prints were selected for the Associated American Artists' 1966 New Talent in Printmaking Exhibition. Since then his work has been exhibited extensively and added to museum collections around the world.

Widely respected as a printmaker of exceptional draftsmanship, he has also created low relief sculptures in the lost wax-bronze casting technique. He is well known for his prints of literary figures but has also a large body of work utilizing animals, birds of prey and grotesques in addition to his current passion for drawing musicians.




A Brush With the Blues
Article from UMASSMAG Online
University of Massachusetts Amherst, Massachusetts
A Brush With the Blues, the book that grew from Tracy and Coughlin's collaboration, is a collection of twenty-six portraits of blues musicians. It is a portable gallery, a nine-by-twelve-inch museum in which the visitor can quickly survey an enormous stretch of the American artistic and cultural landscape, "a random selection of images," as the dust jacket reads, "reflecting only part of a vast tradition." . . . more.
http://www.umass.edu/umassmag/archives/1997/fall_97/fall97_blues.html
---
Mnemosyne Lay in Dust. By Austin Clarke.
With drawings by Jack Coughlin. Published by The Dolmen Press, 1966, Torn d/j. £65.
Twelve birds. By Kenny, Herbert A.
poems by Herbert A. Kenny, drawings by Jack Coughlin. 1964
Face to face : twelve contemporary American artists interpret themselves in a limited edition of original wood engravings ... / with an introduction by Leonard Baskin and a dedication print by Lynd Ward. 1985
Retrospect : the work of Seumas O'Sullivan, 1879-1958 & Estella F. Solomons, 1882-1968 / edited by Liam Miller. 1973
a Brush with the Blues
60 pages of historical text with 26 color illustrations.
Book by Jack Coughlin & Steven C. Tracy. History of the blues and info on individual artists including most of the major blues harmonica players. 26 color frameable portraits.
http://www.harmonicamasterclass.com/brush.htm